Bio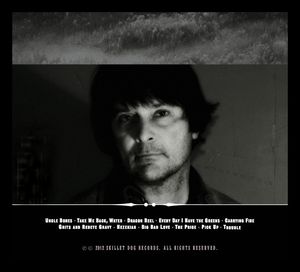 Born in the Kentucky town where Elijah Craig invented bourbon. Grew up on protestant hymns, folk music, and ragtime. One grandmother sang Appalachian ballads, the other played piano for the silents.

Debut album Dust rambled the American past of long hunters, circuit riders, and keelboat toughs. Released 2010 to wide airplay on roots radio. 

The 2012 follow-up, Uncle Bones, dug through folklore in songs that continued to attract critical notice. Over dobro, fiddle, and guitar, the album featured the legends of shadowy Cherokee Bend. Album three slated for fall 2018.

                                                                        

      
Reviews
 from Passione Musica (Feb. 8, 2013):
Oscuro American Storyteller Discovered!  Mark Lucas -- Uncle Bones

. . . I'm not one to withhold names I've discovered on the American scene. Better to spread
the good news if it's really good! And in the case of Mark Lucas it is.  
With a lived-in voice sometimes likened to Ray Wylie Hubbard or Malcolm Holcombe but
perhaps closer to Guy Clark or especially Lyle Lovett (with whom he shares the superb dobro
and pedal steel player Tom "Bleu" Mortensen), Mark Lucas is one of those raccontatori who
now and then appear out of nowhere in the American music landscape. Beyond the sound
texture of Uncle Bones, the lyrics are very important (which, unfortunately, are not included
in the CD package but are in full on its website brothermarkmusic.com): Indeed I would say
the lyrics are fundamental.

The opening song is "Uncle Bones," an American version of Orpheus and Eurydice, with
"Dicey" who died from a snakebite being sought in the underworld by her "Orphie." Orphie
plays his fiddle there in exchange for the return of his beloved, but he makes the mistake of
looking back and must serve Uncle Bones for eternity. In this case the talented Jeneé Fleenor
has only had to play her fiddle for the song's 3:36, well-assisted by the dobro of Mortensen
(who also played with the legendary Mickey Newbury), Wanda Vick on banjo, and Lucas on
guitar, all creating the rural texture of this beautiful fable. The delicate and delicious "Take Me
Back, Water," sung sweet and real by the talented Mark, tells the story of the girl who "wept
pearls."  This little beauty unfolds on a bed of fiddle and dobro. "Dragon Reel," accompanied
by understated percussion and the dazzling violin of Fleenor (who performs with Martina
McBride) is a country jig that tells the tale of a murderer who speaks in enigmas. "Every Day
I Have The Greens" could be one of those ironic acoustic songs that we delighted in in the early
records of Lyle Lovett (as well as Guy Clark, who could be a reference), even the vocal is
reminiscent. Another track, another story, "Carrying Fire" tells the tale of a father who bears the
coals of a fire to the "end of the world." This time it's the mandolin of Vick and the usual fiddle of
Fleenor together with Mortensen's dobro that accompany this epic journey, with the rhythm
underscored by the bass of Matt McKenzie. On "Grits And Redeye Gravy" Lucas drives a rhythm
on electric bass that is, if there is such a genre, a kind of boogie-bluegrass-country.
"Hezekiah" is a classic country waltz, always the same but always different if well played,
and as usual violin, dobro and acoustic guitar dominate. Suddenly in "Big Bad Love" the sound
becomes more electric, with bass, drums, electric guitar, and a bluesy vibe reminiscent of
Hubbard and Holcombe. This other side of Lucas even introduces what could be a wah-wah
guitar but is probably the electrified violin of Fleenor. What a talented girl. Then pulling back
in the next track, "The Price," the excellent Mark is alone, just voice and acoustic guitar, for a
song that reminds me of the more intimate side of Springsteen--so beautiful. "Pick Up" is a
mid-tempo electric blues featuring the pedal steel of Bleu Mortensen and yet another surreal
story invented by the ingenious mind of Lucas: a widow who sends a message to the cellphone
in the coffin of her unfaithful husband! "Trouble" is a country-blues, with the violin again leading
the dance, even if more restrained than on other tracks.  

To put it in two words, or rather three: uno bravo, consigliato!
---

 from Rhythms (January 2013): 
Not to be confused with Australia's own Mark Lucas (also a country/rock artist), the author of 
Uncle Bones is the Kentucky-born artist and one who is quickly making his mark as one of 
Americana's most impressive talents. A follow-up to his 2010 debut, Dust, Uncle Bones is an 
album that puts Lucas up there among America's finest outlaw poets. 
  
Reviewers frequently compare Lucas's voice with Ray Wylie Hubbard. Personally, Uncle 
Bones most reminds me of Lyle Lovett at his best. Though the vocals may be a little more gruff, 
they are no less evocative and Lucas's storytelling no less astute or poetic. And with a largely 
acoustic band on Uncle Bones (that includes dobro and pedal steel player Tom Bleu Mortensen 
who has recorded with Lovett, as well as Mickey Newbury!) the album deftly walks the line 
between traditional and irreverent. To my ears, 'Every Day I Have The Greens' has Lovett and 
his Large Band all over it, with its wry lyrics and nimble musical touch. 
  
The combination of compelling lyricism and vocal phrasing and deft traditional instrumentation 
remains consistent throughout the 11 songs. Lucas conjures intriguing stories and characters 
and the players never let him down in painting vivid portraits. 
  
That said, the album is far from monotonous in style. Towards the end of the album 'Big Bad 
Love' and 'Pick Up' (an album highlight about infidelity, murder and guilt) take a detour into 
more swampy grooves and stretch Lucas's vocals into their upper register, to great effect. Up 
there amongst this year's absolute best Americana releases. 
--Martin Jones, Rhythms 
 
from Blabber'n'Smoke (June 23, 2012):

This is a fine collection of tales from Kentuckian Mark Lucas. Bare boned musically for the most
part, the dominant sounds are dobro (from Bleu Mortensen) and fiddle (Jenee' Fleenor) with
occasional banjo and mandolin. Lucas sings of a dark and mysterious world where death and
the devil lurk and where strange things happen in the shadows although he tosses in a few lighter
hearted rambles to sweeten the mix. Every Day I Have The Greens is a Guy Clark styled jolly romp
that does for veg what Clark did for home grown tomatoes while Grits and Redeye Gravy is a
wonderful paean to a diner peopled with a vibrant list of characters. 
 
"Mac taps his skullbone, they all fought in Korea, Mac took some lead,
He's got a steel-plate that can tell the weather, he picks up Louisiana Hayride in his head."
 
Fine and jolly as these are they are merely the gravy for the meat of this album. The jaunty banjo
introduction to the opening title song leads us into a tale as old as the Greek myths as Lucas tells
of fiddler Orphie Coulter who begs the Devil to return his lover but who makes the fatal mistake of
looking back and ends up fiddling in Hell for eternity. Superbly delivered with Fleenor's fiddle
playing full of fire it's a cracking opener. Lucas slows the tempo for the scintillating Take Me Back,
Water where the dobro shines like a light in the darkness highlighting a sad tale of a nymph tortured
for her ability to shed tears of pearls and who ultimately escapes.
 
"Rocks sewn in the pockets of her coat, she walked down to the river, got in a boat.
A hunter's moon shone, the oars creaked and moaned and a song echoed out through the cove.
Take me back, water, take me back home, wash off this flesh and bleach out the bones,
Hold me down like a stone, take me back, take me home."

Great stuff.
 
Elsewhere there's the archetypal tale of a traveller meeting the Grim Reaper on the woozy waltz
that is Hezekiah while Big Bad Love is a chilling description of the tragic end to a troubled couple
who fight and fuck. With sinister pedal steel and a gritty blues feel this is the aural equivalent of a
Weegee Crime scene picture. The bluesy vibe continues on Pick Up which tells of a spurned wife
who poisons her philandering husband and which cleverly uses the McGuffin of mobile phones
which allow her to know he's cheating and affords her a cold revenge as she calls his phone which
is buried with him.
 
With a firm strong voice and some superb playing from his band Lucas has delivered a gem of an
album which deserves to be held in the same respect as those by the likes of Gurf Morlix or Ray
Wylie Hubbard.
---

 from Family Reunion Country (May 30, 2012):

Album of the Week: Uncle Bones by Mark Lucas
Uncle Bones
 by Mark Lucas is musical storytelling at its finest. The album opens with a southern 
fried version of the classic Greek myth of Orpheus and Eurydice. (How often do you get to throw a 
Eurydice reference into an album review?) Apparently the lord of the underworld is in need of a 
new fiddler (after getting his butt kicked by Charlie Daniels no doubt!). So he arranges to steal 
away the new bride of the most talented musician in the area. Desperate to get her back, the fiddler 
offers his musical services in exchange for the release of his beloved bride. But unlike the Charlie 
Daniels face off with "Uncle Bones," this story does not have a happy ending. The second song 
continues the story fest with a variation of the folk tale of the girl whose tears turn to pearls. As you 
might guess, greed gets the better of those who are supposed to care for her and she is forced to 
make a tragic decision.

Mark continues the expert story weaving with tales of a father bearing embers to the end of the world
("Carrying Fire"), a widow who phones her husband's casket ("Pick Up"), and even a Hannibal Lecter
inspired account of a killer who speaks in riddles ("Dragon Reel").He does add touches of humor with
"Everyday I Have the Greens" and "Grits and Redeye Gravy." All of the songs are thought-provoking
and mesmerizing. Luckily, he includes the lyrics for each on his website.

Not to be lost in the magical spell of these wonderful stories is the fantastic, down-home 
music that permeates each story in song. The acoustic guitars, fiddles, and banjos set the perfect 
Deep South backdrop for his original Southern Mythology. He has been compared to Ray Wylie 
Hubbard (and rightfully so) and he compares favorably to Darrell Scott as well. When you're in the 
mood to kick off your dance shoes and really listen to some great music, this is an album you'll want 
to come back to again and again.

Family Reunion 
---
 from Flyinshoes Review (June 3, 2012):

Mark Lucas: UNCLE BONES

Nobody taps into the old mountain music in quite the way that Mark Lucas manages; following 
directly on from the style he displayed on 2010's Dust, this new album launches you straight into 
a world of raw fiddle, sweet dobro and Mark's distinctive growl, full of hints at dark doings. Fans 
of old-time mountain music will recognise the sounds he makes, but there's a bit of a twist. Mostly 
he sounds like he's steeped in the world of the mountain hollows, where nothing much has 
changed for centuries. It really seems like he's not much engaged with the world beyond the 
mountains, but there's breadth in the musical influences that creep in around the edges and give 
the game away a bit. A touch of Tom Waits on the wondrously bruised and world-weary The Price, 
and something of Tony Joe White in the swampy treatment given to Big Bad Love are two examples 
of more modern sounds that he fuses with the foot-stomping rawness that could be an alternative 
soundtrack for Deliverance.

Weaving true tales with myth-making old and new (the title track is a localised version of the old 
Greek myth, Orpheus and Euridice) Mark Lucas's songs deal in the rawness of life, the loving, 
drinking and dying that goes on, with the devil ever in close attendance. There is a danger that he 
could be stereotyping mountain life in a way that panders to urbanites' self-image of sophistication 
and rationality, but his combination of raw immediacy and dark humour maybe connects with 
people who walk city streets and makes them aware that these themes aren't so far from their own 
lives. Whilst many of these songs could be placed at any time in the last century or so, references 
in Pick Up and Trouble in particular make it very clear that we're in the twenty-first century here, in 
the world of mobile phones and crack dens – and that the same dark vibes lurk around the corner.
                
It's compelling stuff, even better than Dust I believe. He's back with some of the players from the 
previous album, and they all have distinctive styles that contribute strongly to the raw, spooky 
atmosphere. I love the playing from Bleu Mortensen on dobro/pedal steel and Wanda Vick on 
banjo and mandolin, but it's Jenee' Fleenor's fiddle playing that really catches the ear. I'm not saying 
that she's made the pact with the devil, but she's got something really special going on there as she 
drives many of the songs along and provides the instrumental voice that seems to come from some 
unearthly place.
 
---
 from Real Roots Café (August 2012):
The Kentucky singer-songwriter Mark Lucas had two musical grandmothers to thank for his
youthful immersion in both Appalachian ballads (grandma 1) and ragtime music (grandma 2
played piano for the silent movies). After piano, he took up guitar. He played country and folk in
the acoustic duo Lucas & Graham then had ten years in the roots group Billyblues. In 2010 he
released his solo debut, Dust, previously reviewed in these pages. I called Dust a surprising,
mature Americana record. On Uncle Bones Mark plays acoustic guitar and also bass and
percussion. His voice may remind you of Ray Wiley Hubbard. Of the eleven songs on Uncle
Bones, eight are by Mark alone and three are co-writes with Tom Thurman. 
The CD starts with seven songs of powerful folk (Appalachian) with bluegrass influences. It is
deliciously accompanied by fiddle, dobro, pedal steel, and occasionally mandolin and banjo.
Then we enter heavier waters: "Big Bad Love" is a midtempo rocker, "The Price" is a ballad
with only guitar accompaniment, "Pick Up" is blues with the most bluesy pedal steel ever and
an unstated role of a B3, and the closing track, "Trouble," is another bluesy one, now with the
fiddle in a prominent role.
Just like Dust, Uncle Bones made a very strong impression on me. Lucas's evocation of
atmosphere is especially notable, and the multiple faces of the CD create great variety and
hold the listener's interest. All in all, this new one is even stronger than the fine debut CD.
Fred Schmale, Real Roots Café (translated from Dutch)
---
 from Roots Highway (January 2013):

With a series of darkly intense portraits culled from legends, ghost tales, and short stories,
Mark Lucas reminds me of Malcolm Holcombe, despite the differences. The acoustic sound
and the raspy voice provide more than one point of contact, although the trade press has for
previous works (including the well-received Dust in 2010) suggested a kinship with the
Texan Ray Wylie Hubbard.

Let's just say that Uncle Bones is a perfect example of rural Americana flavored with a few
stringed instruments, including the fiddle of Jeneé Fleenor and the dobro and pedal steel of
Bleu Mortensen (who has worked with Lyle Lovett). There are only a few instances of a true
rhythm section, and these are of less interest anyway. Better then to turn to the sweet Take
Me Back, Water, the country jig Dragon Reel, the back-porch Hezekiah, and especially the
evocative Carrying Fire, which bears the marks of Lucas's Kentucky homeland. Stylistically
spare, Uncle Bones is an album for lovers of classic storytelling.

Davide Albini, Roots Highway (translated from Italian)
---

  from ALTCOUNTRYFORUM (July 4, 2012):
While most storytellers put their tales on paper, Mark Lucas puts his in music. This leads to such 
remarkable and memorable characters on this second album, Uncle Bones, as a girl who cries 
pearls (Take Me Back, Water), a woman who telephones the coffin of her deceased husband 
(Pick Up), and a cheerful psychopath (Dragon Reel), all figures derived from legends, fables 
and ghost stories of imaginary Cherokee Bend in Kentucky, the state Lucas calls home.
In addition to developing memorable characters, Mark Lucas is also a gifted songsmith who 
knows how to say a lot in a few words. In the aforementioned Take Me Back, Water--which 
aided by the fiddle of Jenee' Fleenor and the dobro of Bleu Mortensen is one of the highlights of 
this delightful record--he sketches a whole novel in a few strokes: "She never did tell where she 
came from / And now no-one knew where she went / The miller just shivered and stared at the 
river / And wept on his knees for his sins / Rocks sewn in the pockets of her coat / She walked 
down to the river, got in a boat / A hunter's moon shone, the oars creaked and moaned / And a 
song echoed out through the cove."
Although the lyrics are dark and gloomy, the tone of the music is sometimes almost frisky. Lucas 
makes a tasty blend of Appalachian folk, country, altcountry (The Price, also a highlight), 
bluegrass, and blues (Big Bad Love). Fleenor is consistently brilliant on her fiddle and 
Mortensen's dobro is equally important to the tone color of this album as the gritty voice of Lucas. 
These three building blocks together make Uncle Bones a welcome surprise in the unending 
stream of CDs that engulfs us this year.
---
 from Written in Music (August 17, 2012):
Just two years ago Mark Lucas released his debut album, Dust, and now comes his second, even 
stronger record, Uncle Bones. Lucas's penchant for grim and dark material may at first seem 
nothing special in itself, but the way this man does it is surely remarkable. He is a genuine 
storyteller and a true wordsmith. 
The people and situations in his songs come to life. You see before you a short film. Rarely have 
I heard a singer-songwriter who is so visual and cinematic. Very impressive. His stories are a dark 
combination of thriller and horror genres. The characters he creates are drawn from legends, myths, 
fables, and ghost stories of imaginary Cherokee Bend in Kentucky, where Lucas was born, raised, 
and still lives. Among these strange and memorable characters are a girl crying pearls (Take Me 
Back, Water), a man who becomes the devil's (Uncle Bones') fiddler while trying to bring his love 
back from Hades (a tale based on the classic Greek myth of Orpheus and Eurydice), a woman who 
phones the coffin of her dead husband (Pick Up), and a cheerful psychopath (Dragon Reel). 
Although the lyrics are dark, the music is quite lively. Lucas creates a mix of Appalachian folk, 
bluegrass, country, altcountry, and blues. Jeneé Fleenor plays up a storm on her fiddle while Bleu 
Mortensen colors the music with his dobro and pedal steel. They move alongside Lucas's guitar 
in a very tasty way, with a mandolin and banjo in the mix as well. The instruments are well- 
matched and blend together perfectly. They powerfully support the sinister atmosphere. In addition, 
Mark brings his strong, somewhat gritty voice to every word (sometimes reminiscent of Ray Wylie 
Hubbard). Hubbard himself, by the way, has called Lucas' music "blood honest lowdown badass 
Lucas is not for the devil afraid to think outside the box as he sings about a dark, mysterious world 
where strange things happen and where death and yes, even the devil, lurk in the shadows. The 
singer-songwriter has a style we don't often hear, especially in the Netherlands. It's therefore 
extraordinary that a record like this has reached our little country. Mark Lucas' sound is original 
with a vintage touch, intense, varied, and solid as a house. Everything precisely right!
Ella-Milou Quist, Written in Music (translated from Dutch)
---
  from No Deal Music (June 10, 2012):

Mark Lucas is out with a new album, UNCLE BONES, and I must admit that I didn't know his previous
work. But no matter; he delivers with power. This is a bluegrass/folk album and the sounds of dobro,
fiddle, and banjo hold sway. The album is full of tales and myths from Kentucky's deep woods. Lucas
writes with such intensity and originality that it takes your breath away. Here are stories about a man
who ends up being the devil's fiddler, a girl who cries pearls, and a widow who phones the coffin of
her dead husband. Completely out of the ordinary. You are swept into an exciting and mysterious
world if you take the time to listen to Lucas's folkloric tales. I absolutely recommend checking out
Mark Lucas and his album UNCLE BONES. My favorite tracks are "Uncle Bones," "Take Me Back,
Water," and "Pick Up."

Jan Eiesland, No Deal Music (translated from Norwegian)
---
 from Rootstime (June 18, 2012):
When Rootstime reviewed Mark Lucas's 2010 debut album, DUST, we wrote that his folk and
bluegrass material was deeply American in a way not always easily absorbed in Europe. The songs
harkened back to events that shaped the history of America but remain relatively unknown here.
The sequel to DUST is now in our mailbox and is called UNCLE BONES. This time he delivers a
collection of legends, fables, and ghost stories gathered from the memories of his Kentucky elders.  
Studio contributors to the eleven songs include Jenee' Fleenor (fiddle), Matt McKenzie (bass), Bleu
Mortensen (dobro, pedal steel), Wanda Vick (banjo, mandolin) and Corey Dugan (harmony vocals). 
Mark Lucas is a teller of tales, often from his own perspective, but also occasionally through the eyes
of a character, such as the escaped psychopath in "Dragon Reel" or the country '"femme fatale"' in
the song "Pick Up", which is the bizarre story of a widow who makes telephone calls to the coffin of
her husband.
The people who appear in the stories by Mark Lucas are unusual, often fantastic or mythical figures
like a girl who weeps pearls in "Take Me Back, Water," a murderer who talks in rhymes in "Dragon
Reel" or a man who becomes the devil's fiddler in "Uncle Bones".  For further examples: the calls to
emergency number '911' in the song "Trouble" invoke an ancient oracle or there's the father who
brings embers to the edge of the world in "Carrying Fire". 
That there is something out of the ordinary in Mark Lucas probably does not need further clarification.
But integral elements of black and devilish humor in his performances underscore the relativity he
builds into his stories. The acoustic instruments mentioned above support the dark feel of these
weird tales. UNCLE BONES is a record whose style you will not often encounter.
---
from Me, Myself, Music, and Mysteries (June 9, 2012):
Uncle Bones

debuted on the Euro-Americana Chart at No. 8. Damn, they know good music when
they hear it on the other side of the pond! Like Mark's first album Dust, Uncle Bones is filled with
eleven great self-penned songs (two were co-written with Tom Thurman) backed by a fine band,
featuring some great fiddle provided by Jenee' Fleenor and dobro and pedal steel from Bleu
Mortensen. Mark adds the guitar, bass, percussion and the fine vocals. On "Carrying Fire" Matt
McKenzie plays bass and Wanda Vick adds banjo to "Uncle Bones" and mandolin on "Carrying
Fire" and Corey Dugan adds harmony vocals on "Hezekiah." Luke Thornton mixed it all together
and engineered the final product and all of them can be proud of this one. From the opening track, 
"Uncle Bones," to the last track, "Trouble," this album is a joy! 
Edward Karn, Me, Myself, Music, and Mysteries
---
 from Maverick (February 2011):
M. Lucas * DUST * Skillet Dog Records * Four Stars
This is old-time music for today. If you can imagine some of the hillbilly singers of the 1930s being
time-travelled eighty years, then this is how they'd have adapted their music for contemporary
audiences. The 'M' stands for Mark, and he grew up surrounded by Appalachian ballads, ragtime
piano, Ray Charles records, Stax 45s and Bob Dylan. He played in the acoustic duo Lucas &
Graham, then came ten years in Billyblues. Two years ago he left the band to work on this solo
debut and it is basically an amalgam of everything you've read above. Gold mixes classic soul
with sliding pedal steel creating classic country-soul from a bygone era, yet sounding totally fresh
for today. Whiskey Railroad is a country-blues about a father who can't give up the booze; Down
in the Swamp mixes in a little ragtime, with some Tony Joe White swamp-rock and even a little
Cajun. All great stuff that should appeal to those eclectic Americana fans out there.

Alan Cackett, Maverick: The Voice of Country, Folk, Bluegrass and Roots Music
 
---

 from No Depression / Folk Monday (March 14, 2011):

So I came home from work tonight, gave the Roots Music Report a quick look over, saw at #23
M. Lucas and the album Dust. So I loaded up Napster, found the album, and gave it a quick listen.
The opening track "Down in the Swamp" sounded like some good swamp music, so I quickly
downloaded the album onto the player, and have been listening to some great music all night.
From his website I see that the album opened the year at Number 11 on the Euro-Americana
Chart!
 
M (Mark) Lucas calls Danville, Kentucky home and while Dust may be his solo debut Lucas has
been honing his craft for a while. From his website: "He played folk and country in the acoustic
duo Lucas & Graham in his twenties. Then he was part of the roots group Billyblues for ten years
and four albums, performing Americana originals and opening for the likes of bluegrass legends
Jim and Jesse.  In '08 he went solo and set out to make an LP whose personal passions would
be embodied in a cross-section of the American past. Two albums' worth of recorded material
later, he drew together the related songs that comprise his solo debut, Dust. The follow-up,
Cathead Biscuits, will release in 2011."
 
The songs and music on the album are great. Lucas provides a lot of the music himself, as he
plays electric and acoustic guitar, bass, keys and percussion. But he also has some other
players on the album that are outstanding. Bleu Mortensen, of Lyle Lovett fame, provides
outstanding pedal steel on "Gold" and dobro on "Last Things" and "Circuit Rider." and Jenée
Fleenor provides equally outstanding fiddle, particularly on "Lost John. Others who help out
include Derek Deakins (Osborne Brothers), Scott Joyce (Blake Shelton), and Nick Hoffman
(Kenny Chesney).
 
When I first listened to the album, the artist who popped into my mind was Ray Wylie Hubbard,
particularly after listening to "Whiskey Railroad." Tonight, when I went to Lucas' website, I saw
I wasn't the only one who had that thought, KUSH Radio says this about Lucas: "An original
voice, somewhere between Ray Wylie Hubbard and Tom Waits." And in his FAME (Folk &
Acoustic Music Exchange) review Bob Gottlieb had the same reactions I did when he first heard
Lucas' music: "He is one of those rare talents . . . as soon as the disc starts you straighten up
and listen a lot closer to the music coming out of the speakers, because it is good, real good,
and goes directly to your heart."
 
So check out his music at CDBaby or Amazon. 

Edward Karn,
NoDepression.com
 / Folk Monday: 
Me, Myself, Music, and Mysteries
---
 from F.A.M.E. (December 2010): 
This is a singer/songwriter from back in the hills and hollers of Kentucky, and he is known only by
his first initial (by the way it stands for Mark) because as he puts it, "There are two other musicians
out there being Mark Lucas. Look them up. They're good. One's a virtuoso guitarist in Pittsburgh.
The other, like me, is an Americana guy. Though he's from Australia. More power to both of them, I
say; they're doing the name proud." Thus because of confusion on Amazon and iTunes and things
he figured going by the single initial was the easiest solution to the problem. You can also tell just
from the way he puts things that he has a great outlook and a wry sense of the humor in life, both of
which come across in his songs. He is one of those rare talents that though you didn't know his
name or what to expect, as soon as the disc starts you straighten up and listen a lot closer to the
music coming out of the speakers, because it is good, real good, and goes directly to your heart.
This singer with a slightly sandpapery voice wrote eight of the songs, co-wrote one and the "Lost
John" is a traditional tune that he arranged. The disc opens with some great fiddle and piano work
on the very appropriately named "Down in the Swamp," and continues with the great fiddle work
(all of the guest musicians are outstanding) with nice vocal harmonies going into a countrified
version of "Lost John." The disc moves along each song its own entity yet the primitive polish of the
disc remains intact no matter what direction the song takes or what the lead instruments. Though he
plays acoustic and electric guitars, bass, keys, and percussion, he also uses other musicians for
highlights and he gives them credits for it. Sometimes it is the bass that plays a prominent lead
and at other times acoustic, electric or steel guitar, and again it might be the harmonica that takes
prominence. This is a disc that makes me truly want to hear more from this very promising
singer/songwriter who very pleasantly surprised me.  
Bob Gottlieb, Folk and Acoustic Music Exchange Reviews
---
 
 from Flyinshoes Review (Jan. 28, 2011):
      The M. stands for Mark but with two other Mark Lucas musicians out there this particular Mark
has launched his solo career under a simple M.  Born in Kentucky, he has been surrounded by
traditional music all his life, latterly earning his keep in a folk duo and then in roots group Billyblues.
That sounds like it all led to this point; he's spent the last couple of years working on the songs
contained on Dust and on the companion album which will follow later in the year.
      More a distillation than an exploration, the ten songs on Dust evoke an old America in pretty
much the way The Band did all those years ago.  This is not to say that this music sounds like The
Band, it's just that he succeeds in evoking a world before six-lane highways and palaces to
consumerism without ever playing strictly traditional music. If the overall sound reminds me of
anyone, it's probably Lyle Lovett but the man experiments with so many different sounds over the
course of the album, it's his distinctly rough-edged, bruised vocal that is the unifying characteristic.
There are some guest spots from various musicians, notably some very fine fiddle playing that
lights up the one traditional song, "Lost John". However, Mark says on his website that mostly he
worked on these songs by himself, striving to get a particular sound that he wanted and for that
reason it feels to me that these songs might sound quite different played live by a full band. As
good as the production is I can't help feeling there's a bit of verve missing that would come from
a band striking sparks off each other.
        Mark's songs cover a wide range of subject matter; there's some very contemplative songs that
have a quiet, poetic beauty about them. "Last Things" deals with the emotions involved as you tidy
away the things left behind by someone recently departed; "Dust" contemplates the old sense of
wonder a small-town kid would have on his weekly visit to the picture house, whilst "Gold" is a
little more elusive but seems to deal with that bittersweet joy felt in experiencing transient beauty.
The livelier songs are just as varied and if you were going to get up and dance to them, like as not
it'd be old-style foot stomping barn dancing that would come naturally. His lyrics are maybe lighter
on their feet than his music -  he avoids the simple tune in favour of seeking out more depth.
"Bivouac Of The Dead" is his setting of some old words and is about as straightforward a tune as
he allows himself but even this has some brief stops in it and some space for some ghostly
atmospherics.
        I don't suppose there's too much chance of it happening in the near future on this side of the
Atlantic but it would be fascinating to hear these songs performed live with a full band; there's so
much going on I can imagine it being a richly satisfying experience and in the song "Down In The
Swamp" he's got a natural showstopper, a Little Feat style cheerfully irreverent stomp that could be
stretched out long into the night with everyone up and dancing.
---
 
 from CTRL.ALT.COUNTRY (January 2011):
Dust is the solo debut from Mark Lucas, formerly of the acoustic duo Lucas and Graham and the
roots group Billyblues. That experience shows on this first outing of a very talented songsmith. In
"ten short stories with a long past," he explores the darker corners of his homeland and its people.
Only two of the compositions are not his own: the traditional songs "Lost John" and "Bivouac of the
Dead." In stylistically varied Americana musical settings, Lucas' songs give voice to dreamers,
ghosts, warriors and outlaws who tell their stories via Lucas' pleasantly coarse vocals. Strongest
moments: the somewhat Roy Orbison-reminiscent slow song "Gold," the body-slamming
rootsrocker "Whiskey Railroad," and in a different way the soulful title track. This is something for
fans of acts like James McMurtry, Guthrie Kennard and the trio Kane Welch Kaplin.

Benny Metten, Control.Alt.Country 
www.ctrlaltcountry.be
(translated from Dutch)
---
 
 from Roots Time (Dec. 1, 2010):
M. Lucas' debut album, Dust, consists of ten very American-sounding songs, eight of them Lucas
originals. The other two are "Lost John," a traditional number with violinist Jenee' Fleenor in a
leading role, and "Bivouac of the Dead," a song crafted from a poem written in 1847 by Theodore
O'Hara. O'Hara was an army officer whose poem elegized Kentucky soldiers killed in the war
between Mexico and America.
In a number of compositions Lucas looks back into dark moments in American history from
centuries past. "Down in the Swamp" and the bluesy "Whiskey Railroad" are notable examples.
The glory days of the famous Barnum & Bailey circus around 1890 are addressed in the song
"The Sideshow."
Our favorite song is the outlier in the middle of this album. "Gold" is a bit of Roy Orbison and a
bit of Don Henley, a tearjerker with a very strong vocal performance from Lucas, beautifully
accompanied by the pedal steel sounds of Bleu Mortensen (Lyle Lovett) and again the moving
violin of Jenee' Fleenor.
In a completely different style, but we like it, is the dobro-backed "Last Things"--and also the
folky number "Circuit Rider." There is in fact already a second album by Lucas in the wings.
Cathead Biscuits will release sometime in 2011. Hopefully, that will take place along with
another thumbs-up from Roots Time.
Valsam, Rootstime
---
 from Real Roots Cafe (June 2011):
M. Lucas is Mark Lucas, geboren en getogen in Kentucky en dank zij twee muzikale oma's in
zijn jeugd ondergedompeld in zowel Appalachian ballades (oma 1) als ragtime muziek (oma 2).
Hij besloot piano te gaan spelen als reactie op zijn vader's platen van Ray Charles en ging over
op de gitaar na het horen van Bob Dylan's 'John Wesley Harding'. Ook soul kwam in zijn leven
via de singles van Stax die hij verzamelde. Hij speelde country en folk in het akoestische duo
Lucas & Graham en daarna tien jaar lang in de rootsgroep Billyblues. Uiteindelijk besloot hij in
2008 op de solotoer te gaan en dat resulteerde uiteindelijk in zijn solo-debuut 'Dust'. Negen van
de tien songs zijn van Mark zelf, op één nummer is de tekst van Theodore O'Hara, geschreven
rond 1850 ter ere van de gevallenen (uit Kentucky) in de Mexicaans-Amerikaanse oorlog. Het
tiende nummer is een traditional, 'Lost John'. Op 'Dust' staat muziek die een mengelmoes is van
folk, blues en (old) country. Mark speelt akostische gitaar, maar zorgt ook voor zinderende partijen
op zijn B3 en op zijn telecaster en hij speelt ook bas en percussie. Er wordt heerlijk meegedaan
op fiddle (vijf nummers), dobro (twee nummers), pedal steel (één nummer) en incidenteel horen we
een piano, een staande bas en een harmonica. Lucas' stem doet het meest denken aan die van
Lyle Lovett, dus een lekkere volle, iets zuigende stem. 
Al met al laat 'Dust' bij mij een heel prettige indruk achter. De sfeer op de CD is zeer goed, de
liedjes zijn bovenmodaal, Mark's stem is uitstekend geschikt voor dit werk. Voeg daarbij een
aardige variatie in stijlen en je hebt dus een verrassende, volwassen Americanaschijf.

Fred Schmale, Real Roots Cafe (Netherlands)
---

 from Digstation (January 16, 2011):

A Breath of Fresh Air As Old As the Hills (5 Stars)
The anonymous characters of DUST's tales step out of the shadows of history a lot like Lost
John of the album's one trad tune. The town thought old John was a dimwit--until he robbed
the bank and disappeared down the railroad track on the roof of a boxcar. The album's stories
make a tapestry of the old weird America as they follow the exploits and longings of some
literally unsung heroes: a dying circuit rider, a wild-eyed keelboater, a Mexican War poet, a
bloodstained frontier refugee, a circus freak who knows all too well who the real freaks are.
Most remarkable is the maturity of the storytelling. These are songs that cop no attitudes; they
just deliver hard truths in honest language. The bitter humor of the drunk's son in "Whiskey
Railroad" is typical of the steel-edged quality of the writing throughout: the old man "corked
the jug and kicked that corn, the day we laid him in the grave." Stylistically, the CD has a lot
of range, from mountain folk to country-soul to roots rock, but it's all acoustic-driven and
lyric-driven. And the vocals all come from deep within the voices of the stories in a way that's
genuine and memorable and unifying. A sterling debut.

R. Percy, Digstation Review
www.digstation.com
 
---
 from RootsHighway (April 2011):

M. Lukas sta per Mark Lukas, abbreviazione superflua, ma alla quale forse il songwriter originario
del Kentucky si aggrappa per creare un po' di mistero. Non è necessario visto il contenuto del suo
secondo album solista, Dust, un corollario di ballate folk, temi blues e radici hillbilly che si
mischiano con una scrittura dal gesto storiografico, evocando luoghi e leggende che hanno il
cuore rivolto ai "dark corners" come li definisce egli stesso, dell'America. Una prova d'autore che
garantisce sull'esperienza dello stesso Lukas (prima nel duo Lucas & Graham, poi nei Billyblues,
quattro album all'attivo), collocabile a grandi linee fra la sponda Americana più folkie e certe
asperità roots (Last Things e Circuit Raider) tipiche di Malcolm Holcombe (la voce rauca aiuta nel
paragone): Lost John e il violino di Jenee Fleenor hanno il sapore del country più rurale, The
Sideshow e Whiskey Railroad si bagnano nel fiume southern blues e l'omonima Dust sfrutta
persino una formula più funky e moderna, evidenziando la componente nera del suono di M.
Lukas, uno cresicuto tanto i dischi di Bill Monroe quanto con quelli di Ray Charles.

Fabio Cerbone, RootsHighway (Italy)
---
 from Digstation (Nov. 10, 2010):
Odes to the Dead (5 stars)
Guitars weave in and out while Hammond organ and Wurlitzer swirl around midnight vocals for an
eccentric folk-blues sound that's stripped-down and dense by turns. Lucas's debut conjures an
ensemble vibe against the odds, DUST being mostly one of those lone madman-in-the-studio
undertakings. The result is an album that's left of the left-field that's Americana. Not a single love or
road or confessional song. Instead it's an album of sepia-toned odes to the dead: frontier preachers,
Texas-bound desperadoes, slain soldiers, mythic keelboatmen, lost parents, last picture shows.

Singling out tracks feels wrong, the album has such whole-cloth continuity, but the pedal-steel-
driven ballad in the middle, "Gold," is a signature. It's a memory song (as are all of these tunes in
a way) and it addresses directly what the others circle: "nothing gold can stay." "A sail
disappearing at dawn, it's always moving on." Even the jaunty "Lost John," the album's one cover,
gathers a shadow or two.

But there's no sentimentality in the melancholy. The tearless grief of "Bivouac of the Dead" is
characteristic. Theodore O'Hara's nineteenth-century elegy becomes a driving folk hymn, half fierce,
in Lucas's stoic rendering. Whatever else might be said about this CD, it's not the same old thing.

AcrosstheGreatDivide, Digstation Review
www.digstation.com
---
 from FlyinShoes Review (Dec. 8, 2010), a feature/interview:
1. WHERE WERE YOU BORN, WHERE DID YOU GROW UP?  Born and raised in Georgetown,
Kentucky, where Elijah Craig invented bourbon.
2. WHAT IS YOUR EARLIEST MUSICAL MEMORY?  I remember eating a mountain of fried
chicken at a family reunion then skipping stones in Elkhorn Creek while the old people sang hymns
and Stephen Foster.
3. WHAT WAS THE FIRST RECORD YOU OWNED?  I saved up a month's allowance and bought
"Big Bad John" at The Five and Dime.
4. WHEN AND WHERE WAS YOUR FIRST PERFORMANCE?  The square-dance pavilion of Levi
Jackson Park, summer 1975. I was outfitted like a Flying Burrito Brother. Minus the tasteful restraint.
5. WHO IS THE SINGLE BIGGEST MUSICAL INFLUENCE ON YOUR WORK?  It's a what, not a
who:  The Band's "brown album," the holy grail of Americana music in my book.
6. WHAT IS THE MOST MEMORABLE CONCERT YOU'VE ATTENDED?  A Levon Helm
Midnight Ramble at his studio, August 2008.
7. WHAT IS THE MOST MEMORABLE CONCERT YOU'VE PLAYED?  The most memorable in a
good way was sound check at Appalachian Folk Week at the Hindman Settlement School with Jean
Richey in the wings. Doing "Talk About Suffering" a capella in a room full of musicians who all knew
the song inside out. 
8. WHAT IS THE WORST JOB YOU'VE EVER HAD?  Nine months as a cafeteria dishwasher.
9. WHAT DO YOU THINK IS MEANT BY THE WORD ARTIST?  What I mean by it is a
disciplined master craftsman with a sense of wonder. When someone says, "I wrote this song on
a napkin while I finished a Corona," I run.  
10. WHAT BOOK ARE YOU READING AT THE MOMENT? I'm reading a book of short stories by
William Gay: I Hate to See That Evening Sun Go Down.
11. IS THE MUSIC INDUSTRY BETTER NOW OR WHEN YOU STARTED?  Well, this is a
paradox. The industry is better now because, for people who love independent music, the industry
is irrelevant.
12. WHAT IS YOUR FAVOURITE SONG ON THE ALBUM, AND WHAT THE BEST THING FOR
YOU ABOUT THIS NEW ALBUM?  
"The Sideshow" digs the deepest, I think. Something I enjoyed with this album was just taking my
time. Savoring the song-building as much as the songwriting.  
13. WHAT IS THE FAVOURITE SONG SOMEONE ELSE HAS WRITTEN (AT THE MOMENT)?  
The best song by someone else on this album is by the greatest songwriter of all time: Anonymous.
"Lost John" by Anon. Anonymous has been at it since well before even "The Twa Corbies."
14. WHAT IS THE BEST THING ABOUT MODERN LIFE?  The freedom.
15. WHAT'S THE WORST?  The worst thing is that giant corporations are poisoning our air and
water.
16. WHAT SINGLE THING HAS HELPED YOU MOST IN YOUR CAREER?  The life-changer
was the day my father brought home a guitar. He bought it for forty bucks on a Lexington
streetcorner. "From an old boy from Harlan," he said. "Looking for the pawnshop." I'd been
playing the hell out of a cracked ukelele. So either my dad figured if I could play that, I could play
this. Or he was just sick to death of hearing that ukelele. 
 
17. WHAT SINGLE THING HAS HINDERED YOUR CAREER?  Being practical.
18. WHAT'S YOUR FAVOURITE DRINK?  Bourbon on the rocks, no water.
19. WHO'S YOUR FAVOURITE POLITICIAN?  Marcus Aurelius.
20. WHAT WOULD BE THE BEST THING THAT COULD HAPPEN IN 2011?  Everyone coming
to their senses.

Rob Ellen,
FlyinShoes Review